Tucker 48 75th Anniversary Exhibit
Jun 16, 2023—Jun 18, 2023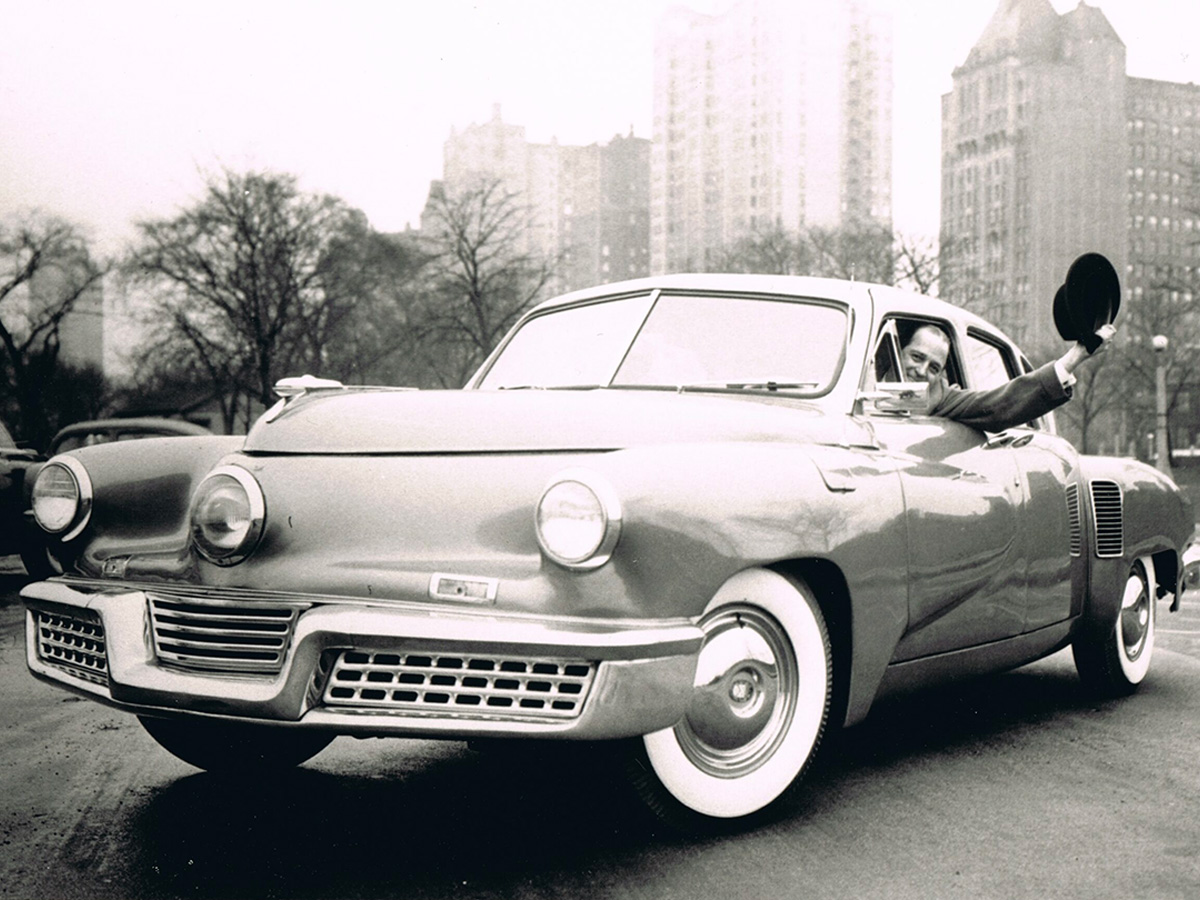 Location: Ullman Gallery
As Preston Tucker's "car of tomorrow" turns 75, the museum presents a special exhibition highlighting the achievement of this monumental milestone. This short-term exhibition anchors the "Tucker 48 75th Anniversary Celebration" and its on-site events. The exhibit includes many iconic Tucker '48 vehicles: "The Tin Goose," #1001, #1015, #1022, #1026, #1028, #1044, #1048, and #1050, the Tucker movie car and original test chassis. In addition, the exhibit presents newly completed upgrades to the Cammack Tucker Gallery along with unique and rarely displayed Tucker artifacts and memorabilia.
About the Tucker 48
With its unique style and swooping lines, the Tucker 48 appeared almost moving, even standing still. The car included ingenious advances in design and engineering that other car companies could not match. With a rear engine, rear-wheel drive, a safety-glass windshield that would pop out in case of an accident, a padded dashboard, and independent suspension, Tucker's vision was for a more attractive, aerodynamic, and safer car than any other on the road.
How and When to See the Tucker 48 75th Anniversary Exhibit
Join us for the entire weekend by purchasing a celebration pass. Or plan a one-day visit and purchase tickets at the door.
Tucker 48 75th Anniversary Celebration Pass: To enjoy the weekend's full slate of events and the exhibit, guests can purchase the Tucker 48 75th Anniversary Celebration pass, providing access to the "Toast to Tucker" gala and all on-site events. Find out more.
Daily Tucker 48 75th Anniversary Exhibit Access:  Planning a one-day visit to the museum to see the Tucker Anniversary Exhibit? We're offering special opportunities to see the Tucker 48 Anniversary exhibit daily from Friday, June 16th to Sunday, June 18th. Purchase one-day admission for the exhibit — "Behind the Scenes, Friday," "Cruise In Day, Saturday," or "Fathers Day, Sunday" — at the door when you visit the museum. Please note: All cars may not be available at all exhibit times.
One-day access to the Tucker Anniversary exhibit: Adults – $35 ($20+regular museum admission)
For museum members with a Tucker club upgrade, exhibit access is FREE. If you want to become a museum member with a Tucker club upgrade, click here and scroll to see membership upgrades.
For museum members, the Tucker exhibit access is $20. If you want to become a museum member, click here.
Celebration Schedule
Friday, June 16th
9:00 AM – 2:00 PM: First 'Behind the Scenes' viewing opportunities of our visiting Tucker 48 automobile exhibit
1:00 PM:  Off-site Tucker movie screening on the big screen at the Allen Theatre, Annville, PA with guest speakers involved with 1988 movie production ($20 donation)
Movie Tickets and information
6:00 PM: "Toast to Tucker Gala" with live 'Tucker era' music courtesy of Generations Big Band, special guests, and silent and live auctions of Tucker items and artifacts. Also, a look at the new David S. Cammack Archival Research Center
Tucker Celebration Pass/Toast to Tucker Gala information
Saturday, June 17th – 9:00 – 3:30 PM: Tucker celebration events continue during our annual Bill Smith Memorial Summer Cruise In.
Three exclusive "Tucker Talks"

10:30 AM: "Preston Tucker's Legal Battles – In Three Different Courts"
Presented by attorney and author Steve Lehto
Many people know that Preston Tucker's dream ended in a criminal courtroom in Chicago. Even though the jury vindicated him, his company was dismantled by the bankruptcy court. After those two legal struggles, Tucker attempted to clear his name in his life's third major legal battle. Attorney Steve Lehto, author of Preston Tucker and his Battle to Build the Car of Tomorrow, will take us through the legal process that Preston Tucker faced.

Noon: "Tucker History Focused on the Exhibit's 48s"
Presented by Mike and Sean Tucker (great-grandsons of Preston Tucker) and Tucker expert Mark Lieberman
The Tucker legacy comprises unique stories, recollections, and undeniable facts. Within the volumes of Tucker lore, each Tucker 48 has its own tale spanning the 75 years since production. Sean Tucker, Mike Tucker, and Mark Lieberman delve into the uniqueness of each Tucker on display and share its role in Tucker history.

1:30 PM: "The Tucker Story After the Last Car"
Presented by Tucker Historian Larry Clark
The possibility of the Tucker 48 car was over by the time the last prototype models were "assembled." Upon the commencement of bankruptcy proceedings, the lives of many Tucker dealers quickly evolved from disappointment to despair. What happened after the last prototype cars were "assembled" is this session's focus. Larry Clark talks about what happened, false hopes, and the people involved — including Preston Tucker. 


A Tucker parade as part of the annual Bill Smith Memorial Cruise In
Vehicle photo opportunities
Sunday, June 18th – 9:00 – 5:00 PM
See many Tucker 48s still on display. Some cars may not be available due to car owners' schedules.
Back to Exhibits